The Best Software for Successful Electrical Services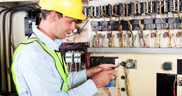 People take for granted the power that runs their business... until something goes wrong. Your talented electricians probably spend too much time juggling various responsibilities - keeping track of inventory, filling in piles of paperwork, and of course, providing the best service to your customers.
Let's enable the technicians to do what they do best, and leave the rest of the balancing act to FieldOne Sky: cloud-based and mobile service software designed to revolutionize your company's process while saving you thousands of dollars every month
Learn more: sign up for a demo.
Hear it from our customers
Read what Mount Auburn Electric says about using FieldOne:
We have used other software in the past and none of the programs I've seen have the estimating, scheduling, and billing power that FieldOne has. From the estimating stage to the final billing, this program tracks all necessary information.
FieldOne is easy to navigate, and extremely user-friendly. The customizing capabilities of this program have really allowed us to respond to the specific needs of our company and we finally have a contractors program that is proficient and relative to our business.
John Sousa, President
Mount Auburn Electric
Cambridge, MA
Learn More
With enterprise-class work order management, project proposal and bid creation, full reporting capabilities, marketing campaign tracking, customizable schedule security rights, service contract management, GPS vehicle tracking and more, FieldOne is the comprehensive solution for the electrical services industry, improving productivity and efficiency (from your tech team to your sales team), while increasing your bottom line.
FieldOne allows you to:
Schedule and dispatch your electricians
Organize proposal and job costingRoute industrial and residential service sites
Control inventory and purchasing of switches, wiring, circuit breakers and other parts
Distribute tasks among the technicians
Increase the productivity of all employees, on the field or in the office