Succeed with the Best Software for Medical and Appliance Services & Repair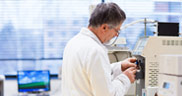 Repairing and maintaining medical equipment is not just a job... it's a responsibility. The health, and even sometimes the fate, of each patient can lie in the proper functioning of that equipment.
Equip your technicians and office staff with the best: FieldOne Sky. Our cloud-based and mobile service software is designed to revolutionize your company's process while saving you thousands of dollars every month.
Learn more: sign up for a demo.
Hear it from our customers
Read what EP Radiological Services, Inc. says about using FieldOne:
Once our guys got into the software, it's been pretty easy to use. We can connect to it with VPN out in the field, and send service reports to the customer by email.
Steve Christiensen
EP Radiological Services, Inc.
Southern California
Learn More
With enterprise-class work order management, project proposal and bid creation, full reporting capabilities, marketing campaign tracking, customizable schedule security rights, service contract management, GPS vehicle tracking and more, FieldOne is the comprehensive solution for your medical and appliance services company, improving productivity and efficiency (from your tech team to your sales team), while increasing your bottom line.
FieldOne allows you to:
Schedule and dispatch technicians and repairmen
Control inventory and purchasing of parts
Organize proposal and job costing
Distribute tasks among your technicians
Route industrial and residential service sites
Increase the productivity of all employees, on the field or in the office