A New Generation of HVAC Service Software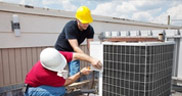 Your heating, ventilation and air conditioning technicians are out on the field, ensuring that the temperature stays perfectly balanced, quietly in the background, as it should be.
Their work happens between dispatcher updates between jobs, juggling piles of paperwork, and keeping track of ducts, fans and other necessary inventory.
Support your entire team, from the office to the field, with FieldOne Sky: cloud-based and mobile service software designed to revolutionize your company's process while saving you thousands of dollars every month.
Learn more: sign up for a demo.
Hear it from our customers
Read what Interstate Air Conditioning & Heating says about using FieldOne:
My HVAC business runs itself using FieldOne. Daniel and his team are very courteous, knowledgeable, and quick to resolve and satisfy my needs. All issues are addressed that day, and all are attended to by their kind and expert technical support department. My business did a complete 180 degree turn because of the simplicity of FieldOne. The inventory features alone will save you enough money to pay for itself.
Raymond Kishk, President
Interstate Air Conditioning & Heating
New York City
Learn More
With enterprise-class work order management, project proposal and bid creation, full reporting capabilities, marketing campaign tracking, customizable schedule security rights, service contract management, GPS vehicle tracking and more, FieldOne is the comprehensive solution for the HVAC industry, improving productivity and efficiency (from your tech team to your sales team), while increasing your bottom line.
FieldOne allows you to: 
Schedule and dispatch heating and cooling technicians
Organize proposal and job costing
Route industrial and residential service sites
Control inventory and purchasing of humidity, air quality and temperature regulation control materials from ducts to fans
Distribute tasks among the techniciansIncrease the productivity of all employees, on the field or in the office