Leverage the Right Software for the Fire & Security Industry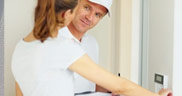 The urgency of your industry is impossible to understate: Your business guards property and saves lives. Preventing the worst means being prepared from the start, and your clients rely on you for top-quality fire safety and security alarm installations and maintenance.
At the end of the day, it's your system that will stand the test in case of a break-in or emergency.
So you can't afford not to play it safe - with your field service software. Streamline your workflow with the best: FieldOne Sky. Our cloud-based and mobile service software is designed to revolutionize your company's process while saving you thousands of dollars every month.
Learn more: sign up for a demo.
Hear it from our customers
Read what Mezuri Systems says about using FieldOne:
FieldOne is a great way to stay organized and up-to-date with the status of our projects. It has made it possible for us to accurately track every aspect of our operations. Previously separate processes (such as inventory, orders, customers and schedules) are now accessible from one manageable database. We are very happy with our transition to FieldOne.
Sarah Siyufy
Mezuri Systems
New York City
Learn More
With enterprise-class work order management, project proposal and bid creation, full reporting capabilities, marketing campaign tracking, customizable schedule security rights, service contract management, GPS vehicle tracking and more, FieldOne is the comprehensive solution for the security and communications industry, improving productivity and efficiency (from your tech team to your sales team), while increasing your bottom line.
FieldOne allows you to:
Control inventory and purchasing of alarm equipment, wiring, and other appliances
Schedule and dispatch technicians
Route industrial and residential service sites
Increase the productivity of all employees, on the field or in the office
Distribute tasks among the technicians
Organize proposal and job costing