The Best Software for Information Technology in the Field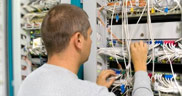 Your customers expect that your team has everything up-and-running smoothly so their networks perform.
You expect from your IT professionals the most up-to-date industry knowledge and skills to support your customers' needs for times of set up, and times of crisis. 
And what do you expect from your field service management solution? Only the best: FieldOne Sky. Our cloud-based and mobile service software is designed to revolutionize your company's process while saving you thousands of dollars every month.
Learn more: sign up for a demo.
Hear it from our customers
Read what ComTech Network Solutions says about using FieldOne:
New features are constantly being added to enhance an already great product. Sometimes we feel like we have our own in-house software development team at work.
We searched for about two years before deciding FieldOne was the product for us and couldn't be more pleased with our decision.
Mike Farlow, Authorized 3COM Business Phone System Dealer
ComTech Network Solutions
Graham, North Carolina
Learn More
With enterprise-class work order management, project proposal and bid creation, full reporting capabilities, marketing campaign tracking, customizable schedule security rights, service contract management, GPS vehicle tracking and more, FieldOne is the comprehensive solution for your informational technology company, improving productivity and efficiency (from your tech team to your sales team), while increasing your bottom line.
FieldOne allows you to:
Control inventory and purchasing of cables, wiring, routers, and other equipment
Schedule and dispatch IT engineers
Distribute tasks among your technicians
Organize proposal and job costing
Route industrial and residential service sites
Increase the productivity of all employees, on the field or in the office