Exterminate Inefficiency with FieldOne's Service Software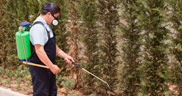 In this industry, you've got to be on-call at all times while providing your customers with the very best in pest control service - and that includes lasting, pest-free and environmentally-sound results. You can't afford for your exterminators to waste hours on inefficient process, missing supplies or miscommunication among your office staff.
Let's enable your entire team to do what they do best, and leave the balancing act to FieldOne Sky: cloud-based and mobile service software designed to revolutionize your company's process while saving you thousands of dollars every month.
Learn more: sign up for a demo.
Hear it from our customers
Read what JB Pest Control says about using FieldOne:
The great thing about FieldOne is that there are so many features behind the scenes that enable me to look at my business from different perspectives and views I could not get before. Everything I need is there. I couldn't get information like this with my old software, and they wouldn't modify it. I truly appreciate and value the flexibility of both the software and the company.
Jeffrey Kazen
JB Pest Control
New York City
Learn More
With enterprise-class work order management, project proposal and bid creation, full reporting capabilities, marketing campaign tracking, customizable schedule security rights, service contract management, GPS vehicle tracking and more, FieldOne is the comprehensive solution for the security and communications industry, improving productivity and efficiency (from your tech team to your sales team), while increasing your bottom line.
FieldOne allows you to:
Organize proposal and job costing
Control inventory and purchasing of chemicals, pesticides and other materials
Schedule and dispatch your extermination crew
Route industrial and residential service sites
Distribute tasks among the exterminators
Increase the productivity of all employees, on the field or in the office