Revolutionizing Field Service for Properties & Facilities Management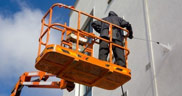 In this business, your energy should be focused on the state of your clients' buildings, keeping their customers happy. You serve as your clients' eyes and ears to maintain their real estate's value while offering peace of mind.
At FieldOne Systems, we know you're up to the job. But we also know you can do it even better - with FieldOne Sky: cloud-based and mobile service software designed to revolutionize your company's process while saving you thousands of dollars every month.
Learn more: sign up for a demo.
Hear it from our customers
Read what Preferred Property Maintenance says about using FieldOne:
FieldOne has significantly improved all aspects of our business and I would certainly recommend this software above any other. We currently have several unique processes in place and the fact that we could customize the software to fit our current needs as a company, was extremely helpful.
I sincerely could not be happier with my choice to go with the FieldOne software. It is evident that the FieldOne staff stands behind their product 100% and makes every effort to provide a level of service that consistently exceeds our expectations. Their product as well as their staff have proven to be top notch and have truly made a positive difference in our business operations.
Jenn Angel
Preferred Property Maintenance
Orange County, California
Learn More
With enterprise-class work order management, project proposal and bid creation, full reporting capabilities, marketing campaign tracking, customizable schedule security rights, service contract management, GPS vehicle tracking and more, FieldOne is the comprehensive Properties & Facilities Management solution, improving productivity and efficiency (from your tech team to your sales team), while increasing your bottom line.
FieldOne allows you to:
Schedule and dispatch technicians
Organize proposal and job costing
Route industrial and residential service sites
Control inventory and purchasing of equipment, parts and materials
Distribute tasks among the technicians
Increase the productivity of all employees, on the field or in the office