Leverage the Right Software for Your Plumbing Business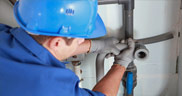 Every morning, your plumbers arrive at the office to receive the day's schedule, check inventory, and collect necessary paperwork. To do what they do best, they spend hours getting organized - manually.
Let's enable technicians to do what they do best, and leave the balancing act to FieldOne Sky: cloud-based and mobile service software designed to revolutionize your company's process while saving you thousands of dollars every month.
Learn more: sign up for a demo.
Hear it from our customers
Read what Pioneer Plumbing says about using FieldOne:
I would like to take this opportunity to express to you our appreciation for you efforts in installing your FieldOne software. It has provided us with all the benefits that you had explained. You have also been very diligent in responding to any questions we have had, including program changes, updates, etc. It's been a pleasure.
Jim Foster
Pioneer Plumbing
Tucson, Arizona
Learn More
With enterprise-class work order management, project proposal and bid creation, full reporting capabilities, marketing campaign tracking, customizable schedule security rights, service contract management, GPS vehicle tracking and more, FieldOne is the comprehensive solution for your plumbing company, improving productivity and efficiency (from your tech team to your sales team), while increasing your bottom line.
FieldOne allows you to:
Schedule and dispatch plumbers
Organize proposal and job costing
Distribute tasks among your technicians
Route industrial and residential service sites
Increase the productivity of all employees, on the field or in the office
Control inventory and purchasing of parts, from pipes to fittings