WHITE PAPER
Choosing a Vendor
"Decisions, Decisions..." Key Issues to Consider in Selecting a Field Service Management Solution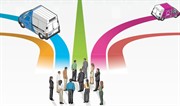 Every company offering Field Service Management and Automation Solutions will impress you with a long checklist of features: schedule boards, dispatching & routing, work order management, automatic billing, and more.
How do you compare products and find the differences that should determine your choice?
In this White Paper, we detail the key issues to explore as you compare products and their providers.
Read: "Decisions, Decisions..." Key Issues to Consider in Selecting a Field Service Management Solution