Sky Mobile
Extend the power of the enterprise to the field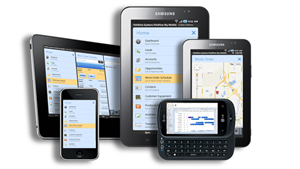 From dispatch and routing to completing work orders, managing invoices,even upselling and cross selling, Sky Mobile delivers the capabilities and resources your people in the field need to provide customers with the best service possible on virtually any mobile device.
Native Apps for iOS, Android, and Windows Phones and Tablets
Leveraging the built-in features of each device, Sky Mobile apps are richer and more secure than any browser-based application. Browser-based options are available for legacy devices.
Powerful Offline Capabilities
Sky Mobile's native apps better access device resources for a more robust offline user experience.
Centralized Multi-Platform Customization and Management for All Platforms
Remote administration with no-code customization. Changes are instantly reflected on every mobile platform after synchronization.